Mark Bagdon - Fiddle and Vocals
Mark studied classical violin beginning in fourth grade.  Mark has played violin or viola with various orchestras over the past 50 years and in several traditional groups since his arrival in the Capital District of New York in 1978.  Mark is currently concertmaster of the Delmar Community Orchestra.
Mark fell in love with traditional fiddle attending a contra dance at the Fox Hollow Festival in 1978.  Over the years he has played with various traditional groups including Small Potatoes (with David Barnert and Sandy Goldring in the 1980's), Apocalypso String Band (with Glenn Weiser in the 1980's), and Clef Hangars (with Peter Siegel and Margaret Mathews from 2000 - 2005).  He has been a periodic guest fiddler with Spare Parts (with Liz Stell and Bill Matthiesen) since 2004.  He joined Three Quarter North in 2010 and figures he will learn to play bluegrass fiddle one of these days when his kids go off to college and he has time to practice.  

Nelson Gage – Mandolin and Guitar
Nelson came of musical age while growing up in the San Francisco Bay area in the 60's and early 70's. As a guitar player, he was drawn to acoustic music after hearing Norman Blake's solo on Bob Dylan's Nashville Skyline Rag. Nelson enjoys flat-picking as well as finger style guitar like that played by Merle Travis and Reverend Gary Davis.

It was soon after developing an avid interest in bluegrass and fiddle dance tunes that Nelson branched out to the mandolin – his current love. Since the 1980's Nelson has played with several local musical luminaries such as Dave Crump and the acoustic trio "Yankee Doodlas." With Three Quarter North, Nelson has hit his full stride by lending his unique style of swing and gypsy jazz to the band's performance repertoire. Nelson was born in Albany and resides in Delanson, New York.

Pete Houghton - Sound/Production
Pete started down the Sound Guy path while still in high school where he first landed a job in productions. After graduating from college with a degree in media, he went to work using his video and graphics skills at a local college. Pete volunteered at the Fox Hollow folk festival for a couple of years, then became involved in sound reinforcement for the bands Natchez Trace and Aardvark Crossing in Albany, NY. Later, he reconnected with his old high school buddy and banjo player Jim Atkins. Jim mentioned that Fire in the Kitchen, a group he was playing with at the time, was looking to do some recording. Pete started helping out and was hooked back into the Sound Guy seat. Shortly after Fire in the Kitchen was extinguished, Jim asked Pete to work with a new band, Three Quarter North, where he is happy to remain until his dying day.

Joe Pasko - Percussion and Bass
As soon as Joe submits his bio for this website, we'll know all about him.  In the meantime, we'll continue to believe that he is who he says he is - the inventor of strange percussion instruments that add unmeasured glee to a Three Quarter North performance. 

Dave Rhodes - Bass, Guitar, Vocals
Dave regards himself, first, as a songwriter. His tunes have aired on the Songwriter's Network (www.musictogousa.com), Martha's Vineyard Radio (www.mvyradio.com), and with Three Quarter North on Crumbs Radio (crumbs .net/bands). Dave also has songs placed with Pump Audio, Jingle Punks, and Pacifica Music Libraries among others. Dave penned three of the songs on Three Quarter North's CD, "North By Northeast." and four on the band's latest CD "Back Home."
Dave is a member of the Albany Musicians Union and American Society of Composers, Authors, and Publishers. He plays bass with Three Quarter North and trombone with the Georgie Wonders Orchestra and the Nisky Dixie Cats. It's with Three-Quarter North that his songwriting ambitions find their fullest expression, for which he is pleased and grateful. Dave is a resident of Delmar.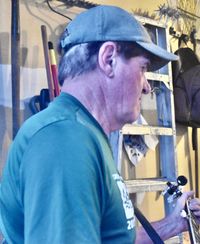 Chris Schultz - Banjo and Vocals

Although Chris hasn't been playing banjo his whole life, he's been listening to it's sweet sounds since the day he was born! His daddy was a hard-charging Appalachian frailer, playing only in the midnight hours in the family living room, and many sleepless nights were had listening to Stringbean, Roscoe Holcomb and Grandpa Jones. Chris somehow survived it all, picked up some Scruggs 3- finger picking licks, and went on to help form and play with the local favorite Mooncat band. After a multi-year stint, Chris became the lead banjo player with the alt-bluegrass group Flood Road. When not playing banjo with Three Quarter North and Dyer Switch, he loves practicing his music in the company of his two beloved cats!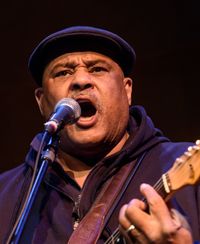 Steve Smith - Guitar, Vocals
Stephen grew up in a musical family. Early lessons in piano, trumpet, accordion, and singing in church and secular choirs led him to great music.  When he taught himself to play guitar, the urge to play and perform really took hold.  As a teen he tore through a "Beatles Complete" songbook and soon learned to cover songs by closely listening to records and the radio.  By age 20, he was playing in local bands. His background in classical, pop, polka (from the accordion), soul, and blues, prepared him well for the variety of musical  genres he now plays and appreciates.
Stephen has performed in blues, soul, funk, classic rock, reggae, latin, and jazz bands with equal facility. He has performed on solo acoustic guitar, in acoustic duos, and in various ensembles. Currently he plays in the soul-funk band "Soul City" and Three Quarter North where the bands original tunes really stand out for him. When people ask Stephen how he can perform so many distinctive styles of music the answer is simple: If you love the music and truly respect the culture it comes from, you can play anything.